Next Meeting:
​
March 18, 2018
Noon
Sunset Grill & Bar

​** Public is encouraged to attend and to bring a friend!
Have you ever wondered how the Motorcycle Awareness Alliance (MAA) was started?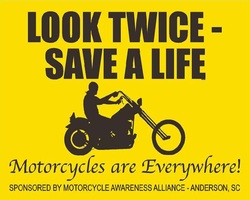 In Anderson, South Carolina on a fateful day in April of 2003, Jimmy Moore was killed on his motorcycle while on his way home when a car turned left immediately in front of him. In September of that year, the Family III Social Club, of which Jimmy had been a member, held a poker run in his memory. It was named the Look Twice Save a Life Poker Run. At the request of Jimmy's family, who took a very active role in this benefit (especially Jimmy's dad, Tommy Moore), the proceeds from the run were to be given to one of Jimmy's favorite charities – the Stephanie Carter Memorial Fund. In fact, this was the charity benefit Jimmy was participating in on that fateful day in April 2003.
For the next couple of years Family III continued to hold an annual Look Twice run benefiting different charitable organizations; but by 2006 it was apparent that the run participation had dwindled and the run was abandoned by the club in favor of other activities.
Then, in May of 2007 in Anderson, another young motorcyclist was killed when a car pulled out directly in his path. The young man, Travis Smith, or Little Travis to his friends, was well liked and known by most of the motorcycling community in the Anderson area. His tragic death ignited a flame in his family, friends and fellow motorcycle riders. Several of these people, including many from the Family III group who sponsored the Look Twice runs in previous years, met to discuss what could be done to better educate the driving public to be aware of, and look out for motorcycles on our streets.
It was suggested that the problem of right-of-way violations committed by vehicles against motorcycles (too often resulting in the death of the motorcyclist) was a problem indeed shared by all motorcyclists and that rather than one club holding yet another "In Memory Of" ride, we should all unite to a common cause to raise money to be used to raise awareness of motorcycles and help to keep ourselves safe on the roads - - thus was born the Motorcycle Awareness Alliance (M.A.A.).
Grizzly (Bill) Atkinson was a driving force that first year and stayed active right up until his death early in 2011. At the time of his death he held the office of President of the M.A.A. Other clubs that came together with Family III that first year included Anderson County ABATE, Confederates M/C, Teufelshunde M/C, Hardwood Cruisers M/C and Hard Knox Hotrod Club. All of these clubs remain active today and several more have joined the ranks of the M.A.A. such as; Hells Angels M/C, Red Devils M/C, Peckerwood M/C, Hardwood Cruisers M/C, DILLIGAF R/C, Slick Wicked, Ancient Iron Cycles, Clouds of Thunder Motorcycle Ministry, Tribe of Judah Motorcycle Ministry, TwistedSisters R/C, Wind Sisters R/C, Straight Shooters M/C and Crucibles Brotherhood.
The money raised from the M.A.A. Look Twice runs has resulted in TV commercials, radio ads, billboards, banners, bumper stickers and yard signs. The runs continue to grow in attendance and we believe that our message is being heard. An area we hope to expand to next is our local high schools and teenage drivers. If drivers learn early to be more aware of motorcycles on the streets, they will be safer drivers and motorcyclists will simply be safer.
The year of 2011 presented a tough challenge as Grizzly left some mighty large boots to fill, but President Ricky "Ponytail" Allison, V-P Lonnie Hunsinger, Treasurer Jane Robinson, Secretary Brian "Dagger" Kirby, Product Coordinator Dave "Pappy" Laire, along with countless other volunteers and supporters are committed to this cause and intend to keep this run alive for many years to come.
If you are interested in learning more or joining this effort, feel free to attend one of our planning meetings. You can find meeting information under our Contact Us tab above. We now have MAA Chapters in Anderson, Greenville, Spartanburg, Laurens and Oconee county! Be sure to contact the chapter closest to you for meeting information!
---
Our Mission Statement
The Motorcycle Awareness Alliance was formed in Anderson, SC to promote safety and awareness to the general driving public. MAA has since ventured out to several upstate counties including Greenville, Spartanburg, Oconee and Laurens.
We are a non-profit organization of motorcycle enthusiasts who believe motorcycle safety is top priority.
Our mission is to promote safety and awareness to the general driving public. Through generous donations, we are able to provide yard signs, banners, car tags, bumper stickers etc. to promote safety.
Our organization is strictly for promoting awareness; therefore we do not host benefits or rides for fallen/deceased bikers. We as individuals may participate in a benefit but not on behalf of the Motorcycle Awareness Alliance.